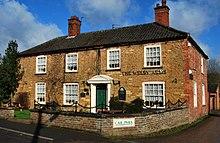 Denton is a village and civil parish in the South Kesteven district of Lincolnshire, England. The population of the civil parish was 273 at the 2011 census. It is situated approximately 3 miles (5 km) both south-west of Grantham and west from the A1 road.
History
The Denton name derives from the Old English 'dene+tun', meaning "village in a valley," but in Domesday it is written as "Dentune". Denton is the site of an ancient Roman settlement. It may also be a site of the Beaker culture, based on some archeological finds made.
Community
In 1984 Denton held its first street market, proceeds from which were equally divided between the Church, the School and the Village Hall. The street market is now held every year on the first Bank holiday Monday in May. The 2013 event was the 27th, (the 2001 and 2012 markets being cancelled because of foot and mouth and bad weather respectively) with over 150 stalls, food outlets, children's entertainment, and traditional village sports.
The ecclesiastical parish is Denton, part of The Harlaxton Group of the Deanery of Grantham. The nearest non-conformist church is the Methodist chapel at Grantham.
The village public house, the Welby Arms, is an early 19th-century building constructed of coursed ironstone rubble, with the side walls of red brick, and although a number of alterations were made in the 20th century, it has been Grade II listed since 1979.
Denton has a village hall, managed by a parish council, but no village shop. It is served by the daily No. 9 bus service from Grantham.
Sourced from and more details available on Wikipedia